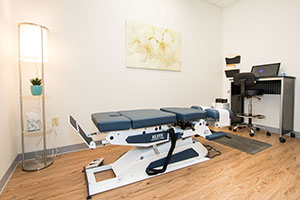 Chiropractic treatment identifies misalignments (subluxations) in your neuromusculoskeletal system, and works to correct them through the manipulation of your joints. At Beyond Chiropractic, we offer chiropractic adjustments in addition to the other health services available to our patients. We are strong believers in preventative care, and utilize chiropractic treatment to maintain a health lifestyle. Our philosophy of individualized care is important to us, and we pride ourselves in developing specific treatment plans for each of our patients.
Who Can Benefit From Chiropractic Care:
Pregnant Woman
Athletes
Infants and Children
Elderly
Students
Parents
Personal Injury patients
Those suffering with the following conditions:  Headaches, Neck Pain, Mid or Low Back Pain, Sciatica, Traveling/Radiating Pain, Shoulder/Elbow/Wrist Pain, Hip/Knee/Ankle Pain, Plantar Fasciitis, High Stress Level, Sitting at a Desk or Driving for Many Hours, Lifting at Work or at Home, Standing for many hours a day, and more! Give us a call at 267-536-2867 to see how we can help with your concern!
Dr. Lash utilizes several techniques for adjusting her patients. Palmer package is her preferred system of chiropractic care taught by the Palmer College of Chiropractic. It includes a variety of techniques such as: Diversified, Thomson and Gonstead. Diversified consists of spinal analysis to identify the improper position of one or more vertebrae, and the administration of a manual thrust. Thomson is a light force technique which uses a special table with drop-away sections to minimize the amount of energy needed to adjust the spine. In Gonstead, the patient may sit, kneel, or lie on his/her side so adjustments can be made as it is a full spine technique. Dr. Lash also utilizes the Flexion-Distraction technique which treats disc injuries involving back and leg pain. With this technique, a specialized table is used to gently stretch the spine to isolate the problematic area and can relieve pressure from the nerves.
Flexion-Distraction is a research-documented type of spinal manipulation . It is a non-surgical, doctor-controlled, hands-on manipulation performed with the patient lying on Flexion Distraction table. This special table permits the effective administration of  flexion-distraction and decompression adjustment and manipulation.
Well-researched and documented, flexion-distraction and decompression helps relieve spinal pain and return patients to their desired quality of life by …
dropping intradiscal pressure to as low as -192mm Hg
widening the spinal canal foraminal area by 28%
reducing pressure on the spinal nerves
returning motion to the spinal joints
The goal of Flexion-Distraction is to help the spinal pain patient go from "pain" to "no pain" as quickly as possible(1):
Flexion-Distraction is appropriate for conditions causing low back and leg pain. It also reduces pain attributable to …
disc herniation
a slipped disc
a ruptured disc
facet syndrome
spinal stenosis
degenerative disc disease
spondylolisthesis
post-surgical continued pain
pregnancy related back pain
other conditions
Patients seeking relief of their lower back pain can rest easy knowing that Flexion Distraction technique protocols are safe, gentle, and well-documented to help them!
Some Key Benefits of Flexion-Distraction Include:
Improved range of motion in the low back, feet, toes
Improved posture
May be covered by some insurance plans
Brief, painless treatments; may be suitable for people who cannot tolerate pain
Restores vertebral joints for better functioning
Increases circulation and improves nerve communications
Reduces pregnancy back pain
Affects subluxation of the spine
May be used to treat neurological diseases including cerebral palsy, stroke and multiple sclerosis(2)
(1) Coxtechnic.com 2011
(2) Murphy D et al: Nonsurgical approach to the management of patients with lumbar radiculopathy secondary to herniated disk: a prospective observational cohort study with follow-up. Journal of Manipulative and Physiological Therapeutics 2009; 32(9):723-33