Therapeutic Massage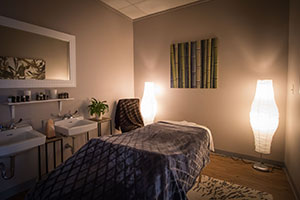 Therapeutic massage involves using techniques to manipulate soft tissue to increase circulation, unwind the tension and restore balance and relaxation. We make every massage unique to the individual receiving it in order to best achieve his or her health goals.
Some of the many benefits include:
Anxiety
Digestive disorders
Headaches
Insomnia related to stress
Paresthesias and nerve pain
Soft tissue strains or injuries
Sports injuries
Joint pain
Lisa Hibberd
Lisa Hibberd is a Licensed Massage therapist as well as a Licensed Esthetician. She has been trained in several modalities, her massage style is a combination of therapeutic and relaxation techniques. Her skin care treatments will be custom designed for your skin's optimal response. She knows, first hand, the damage that today's lifestyle can bring to the body, mind and spirit–and most noticeably within the skin. She works to create space in the body during a massage to increase circulation, unwind the tension and restore your balance and relaxation. Setting aside this time, for yourself, to rest invites the body, mind and spirit to restore and reset. Each skin care enhancement will be a tailored session, with a careful, coordinated effort toward your specific wellness and skin care goals. Schedule a massage with a skin care enhancement!
---