Therapeutic Massage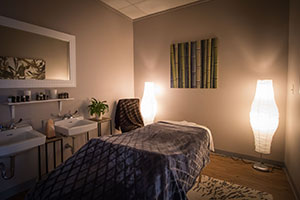 Therapeutic massage involves using techniques to manipulate soft tissue to increase circulation, unwind the tension and restore balance and relaxation. We make every massage unique to the individual receiving it in order to best achieve his or her health goals.
Some of the many benefits include:
Anxiety
Digestive disorders
Headaches
Insomnia related to stress
Paresthesias and nerve pain
Soft tissue strains or injuries
Sports injuries
Joint pain
Lisa Hibberd
Lisa Hibberd is a Licensed Massage therapist as well as a Licensed Esthetician. She has been trained in several modalities, her massage style is a combination of therapeutic and relaxation techniques. Her skin care treatments will be custom designed for your skin's optimal response. She knows, first hand, the damage that today's lifestyle can bring to the body, mind and spirit–and most noticeably within the skin. She works to create space in the body during a massage to increase circulation, unwind the tension and restore your balance and relaxation. Setting aside this time, for yourself, to rest invites the body, mind and spirit to restore and reset. Each skin care enhancement will be a tailored session, with a careful, coordinated effort toward your specific wellness and skin care goals. Schedule a massage with a skin care enhancement!
Jaymie Ganster-Law
Jaymie Ganster-Law is a Licensed Massage Therapist that has a thriving interest in helping people reach their health and healing goals. She is outgoing, professional, faces challenges head on, dedicated, cares about others well being and loves her husband and 3 daughters fiercely.
She discovered massage therapy as a therapeutic role while working with her special needs daughter's PT and OT during her sessions in 2017 when she was 6 months old. She quickly fell in love with the healing and helping potential of a therapeutic touch. During this time, she learned how the body comes together and is connected. She found this so fascinating and knows it can truly help so many people!
Whether you desire a relaxing massage, work on long-term injuries and trauma, she is able to meet you where you are on your journey. Jaymie is experienced and certified in Swedish, Craniosacral, Pre-natal, and medical massage for Special Populations.
Jaymie's goal of every massage session is to create a safe and nurturing space where the body can use its natural ability to heal. She is devoted to working on each individual's needs and areas of concern.
Mark Naylor, Licensed Massage Therapist
Mark is a Licensed Massage Therapist skilled with Myofascial Release techniques and energy medicine using the Healing Touch approach. His therapeutic massages can include liberating neck work, PNF techniques, deep tissue, and/or Esalen-style full body effleurage strokes. While he obtained a PhD in Glass Science working as an R&D scientist for 8 years, massage and healing has always been a sacred part of his life since the 1990's. He believes human discomfort, pain, and illness can be resolved by releasing fascial restrictions and/or balancing the human energy field for optimal health and improved connection to your inner self! Clients can request combined sessions with massage, myofascial release, Healing Touch, or deep lymphatic work for elevated benefits. While Mark uses combined logical/intuitive methods, you will be in caring hands supported by a caring mind and a caring heart. Continual feedback from clients is that he creates a relaxing sense of calm and comfort during his healing sessions with lasting benefits. Mark also makes luminous neon sculpture, spiritual watercolor paintings, and plays upright bass when possible. Book a first massage session and start a healing journey with Mark to discuss how advanced modalities can help you reach your health and life goals!
---