Dr. Heather Lash, Chiropractor, Certified Functional Medicine Practitioner
As the owner of Beyond Chiropractic, Dr. Lash is a Chiropractor as well as a Certified Functional Medicine Practitioner. She is a Conshohocken native who enthusiastically started a wellness center in her hometown to serve the people of the greater Philadelphia area.
After graduating from Penn State University, she traveled to the sunshine state to complete chiropractic college at Palmer College of Chiropractic in Port Orange and then spent a few years practicing in Florida before coming home. She is married to the love of her life, Steve, and they have a son, Carter, a daughter, Josephine, and a boxer pup, Grizz!
Spending time volunteering her services in Vietnam, she worked with patients in hospitals and orphanages to help them achieve a better quality of life. She left her position as clinic director at Integrative Health of Orlando in Florida to open Beyond Chiropractic to help people of all ages and of all ailments from back pain to Type 2 Diabetes. Dr. Lash has been teaching seminars and classes on Type 2 Diabetes and Hypothyroidism as well as Continuing Education courses for massage therapists.
Dr. Lash is certified in Palmer Package, Kinesio-tape technique, Graston Technique, Activator Methods, Flexion Distraction, Webster Technique and Functional Medicine.
---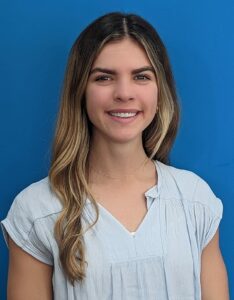 Dr. Sarah Coyne, Chiropractor
Dr. Sarah Coyne is a Pennsylvania native who was born and raised in Newtown, Bucks County. For her undergraduate career, she attended the University of Maine majoring in Kinesiology & Physical Education along with playing four years of Division I softball. Dr. Coyne continued her education receiving her doctorate with honors from Northeast College of Health Sciences in 2021. Her love for education continues as she is currently completing her Masters in Clinical Nutrition at Northeast College of Health Sciences. During her time at Northeast College of Health Sciences, she was a student tutor, a member of the Motion palpation club and on the intramural softball team.
Dr. Coyne empathizes the stress of balancing the demands of everyday life and being active. Her goal is to work together as a team to help guide you towards pain-free movement and lifestyle so you can continue to participate in the activities you love. In her free time, Dr. Coyne enjoys the outdoors, running, hiking, yoga, the beach, and spending time with her friends and family.
Dr. Coyne has certifications in Basic and Functional Rock Tape Procedures and performs a variety of soft tissue/adjusting techniques such as Graston, Active Release Technique, Myofascial Release, Activator Methods, Flexion Distraction, Drop-Table and Extremity Techniques.
---
Lisa Hibberd, Licensed Massage Therapist
Lisa Hibberd is a Licensed Massage therapist as well as a Licensed Esthetician. She has been trained in several modalities, her massage style is a combination of therapeutic and relaxation techniques. Her skin care treatments will be custom designed for your skin's optimal response. She knows, first hand, the damage that today's lifestyle can bring to the body, mind and spirit–and most noticeably within the skin. She works to create space in the body during a massage to increase circulation, unwind the tension and restore your balance and relaxation. Setting aside this time, for yourself, to rest invites the body, mind and spirit to restore and reset. Each skin care enhancement will be a tailored session, with a careful, coordinated effort toward your specific wellness and skin care goals. Schedule a massage with a skin care enhancement!
---
Mark Naylor, Licensed Massage Therapist
Mark is a Licensed Massage Therapist skilled with Myofascial Release techniques and energy medicine using the Healing Touch approach. His therapeutic massages can include liberating neck work, PNF techniques, deep tissue, and/or Esalen-style full body effleurage strokes. While he obtained a PhD in Glass Science working as an R&D scientist for 8 years, massage and healing has always been a sacred part of his life since the 1990's. He believes human discomfort, pain, and illness can be resolved by releasing fascial restrictions and/or balancing the human energy field for optimal health and improved connection to your inner self! Clients can request combined sessions with massage, myofascial release, Healing Touch, or deep lymphatic work for elevated benefits. While Mark uses combined logical/intuitive methods, you will be in caring hands supported by a caring mind and a caring heart. Continual feedback from clients is that he creates a relaxing sense of calm and comfort during his healing sessions with lasting benefits. Mark also makes luminous neon sculpture, spiritual watercolor paintings, and plays upright bass when possible. Book a first massage session and start a healing journey with Mark to discuss how advanced modalities can help you reach your health and life goals!
---
Jaymie Ganster-Law, Licensed Massage Therapist
Jaymie Ganster-Law is a Licensed Massage Therapist that has a thriving interest in helping people reach their health and healing goals. She is outgoing, professional, faces challenges head on, dedicated, cares about others well being and loves her husband and 3 daughters fiercely.
She discovered massage therapy as a therapeutic role while working with her special needs daughter's PT and OT during her sessions in 2017 when she was 6 months old. She quickly fell in love with the healing and helping potential of a therapeutic touch. During this time, she learned how the body comes together and is connected. She found this so fascinating and knows it can truly help so many people!
Whether you desire a relaxing massage, work on long-term injuries and trauma, she is able to meet you where you are on your journey. Jaymie is experienced and certified in Swedish, Craniosacral, Pre-natal, and medical massage for Special Populations.
Jaymie's goal of every massage session is to create a safe and nurturing space where the body can use its natural ability to heal. She is devoted to working on each individual's needs and areas of concern.
---
Jeanne Lee, Licensed Acupuncturist, Traditional Chinese Herbalist
Jeanne Lee grew up using Acupuncture and herbal medicine as a healing modality and way of maintaining health. As a child she has fond memories of her family using Acupuncture and Herbal medicine whenever there was dis-ease or illness. She understood from a young age the body's ability to heal and the power it holds. This led her to study the art of Oriental Medicine and holistic healing at Southwest Acupuncture College in Boulder, Colorado where she fell in love with the Rocky Mountains and nature.
Jeanne has over 3,000 clinical hours and graduated with a Masters in Oriental Medicine. She is licensed in the state of Pennsylvania and board certified.
Her goal is to assist and guide you on your own journey of health and discovery of self, and to take back your own power of healing or health maintenance. You can expect on your initial visit a very thorough intake of questions to help diagnose where imbalances have occurred in the physical body, the mental body, and the spiritual realm. She takes the whole body into account and uses a variety of modalities that range from Acupuncture, Electrical Stimulation, Cupping, Moxibustion, Herbal Medicine, Dietary and lifestyle counseling, meditation/mindfulness practices, and Yoga or Qi Gong.
---
Katie Fitzgerald, Office Manager
Katie Fitzgerald is a lifelong Pennsylvania native and a Plymouth / Whitemarsh resident for close to a decade.
Before her start at Beyond Chiropractic, Katie worked in Athletic Administration for more than 10 years , most recently serving as a Collegiate Field Hockey Coach, and Senior Women's Administrator at Bryn Athyn College.
Katie earned a Bachelor's Degree in Family Studies and Community Development from Towson University, where she was a four year varsity student-athlete for Towson's Division 1 Field Hockey program.
Following her education at Towson, Katie also obtained her Master's Degree in Education from Wilkes University.
In her spare time, Katie is an avid Philadelphia sports fan, and loves to spend time with her family; Husband, Mike, and daughters – Lennon, and Hartlee.
---
Kathleen Carter, Receptionist
Born, raised, educated in Philadelphia, Kathleen is #8 of nine children and identical twin to #9. Kathleen's background is diverse, from teaching children's preschool programs in a private Chestnut Hill school to catering high end functions. Top priority for Kathleen affectionately known as GiGi to her grandchildren is family. Kathleen is most happy hosting birthday dinners, special celebrations and holidays for her large and extended family. Walking in the community she loves, Pilates and most sports especially soccer are Kathleen's favorites.
---
Evelyn Godlewski, Receptionist
Evelyn is a lifelong Roxborough native who enjoys all things health and wellness! Her life goal is to make a difference in the life of each person she meets, while greeting them with a smile and warm welcome. Evelyn enjoys reading, practicing yoga, pilates, and most importantly, living each day to the fullest. You can see Evelyn's smiling face here at the front desk a few days a week!
---
Recommended Practitioners:
Nicole Schillinger, RD, Certified Personal Trainer
Nicole completed all of the training, education, and licensing requirements necessary to practice in the states of New Jersey and Pennsylvania. She has worked as a clinical RD for over 10 years in managerial and directorial roles in hospitals, nursing homes and assisted living facilities. In her own words, "It is very gratifying to successfully educate patients with several disease states. I'm able to give them the tools to adjust their lifestyle, make healthier choices, follow an exercise regimen, and feel better about themselves." Nicole is also a certified personal trainer and group exercise trainer with many years of experience and proven results.