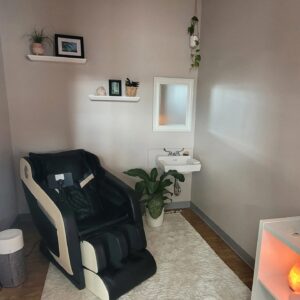 As our name entails, we strive to go Beyond Chiropractic to provide our patients with the best possible care. This often means looking beyond just the physical to discover other factors that may be impacting a patient's health and wellness. Several patients come in experiencing high levels of stress and tension. As we know, chronic stress has a variety of negative implications on our health including increased muscle tension, increased inflammation, decreased immunity and much more. Therefore, we have created the "Zen Den" in hopes to help combat the state of chronic stress most of us are living in. Think about it, when was the last time you took ten minutes of uninterrupted time to kick back and relax??? For some of us the answer may be never, if so this is your sign to check out our Zen Den today. 
So what is the "Zen Den"? The Zen Den is a quiet room in our office which includes a full body zero-gravity massage chair with 20 airbags placed over the shoulders, arms, buttocks, legs and feet to help ease tension and relieve muscle fatigue. You also have the option for heat therapy to gently soothe the back and loosen tight muscles to improve blood circulation. The foot 
massage rollers provide kneading and rolling on your soles to give you full relaxation to your feet. In the Zen Den you'll also have access to the Bluetooth connection in the chair to play your own music/meditation or we can play something for you. Aromatherapy will also be provided to promote relaxation. Have a couple minutes before or after your appointment??? Try out the Zen Den and let us know how you like it. 
Pricing: 
$10 for 10 mins 
$15 for 15 mins 
$30 for 30 mins